CHAOTICA Biography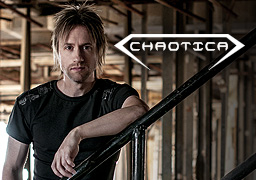 From the mind of frontman and founding member Danny Chaotic, the electronic rock band CHAOTICA produces a culmination of sounds that evolved from industrial, electronica, EDM, and dubstep, infused with aggressive, distorted rock, and topped off with gritty vocals and addictively catchy hooks. The result: music that sounds like Celldweller, Blue Stahli, Rob Zombie, Pendulum, Nine Inch Nails, and Linkin Park had a bastard red-headed love child that can't get enough evil disco. Originally established in 1997 in Fort Wayne, Indiana, now this Phoenix, Arizona-based studio project creates energetic, futuristic, fast-tempo songs that constantly violate genre barriers and inject politically charged, antiauthority undertones into the minds of nonconformists worldwide. With the release of their third full-length original album "Disruptive" in 2015, CHAOTICA once again proves they are a mainstay and relevant contributor within the electronic/rock scene.
Current Members:
• Danny Chaotic: producer, songwriter/composer, vocals, rhythm guitars, keyboards/synths, drums, bass, programming, arrangement & engineering
• Gary Toth: lead guitar
Discography:
• Turbocharger (Album, 1999, Self-released)
• Where Was God? (Single, 2001, Self Released)
• gODHEAD: Eleanor Rigby Remixed (EP, 2001, Posthuman Records / Priority Records)
• Offset Impact (Remix Album, 2002, Self-released)
• Prison of Decay (Album, 2006, Cold Fusion Records)
• Unstable (EP - Radio Promo Only, 2007, Cold Fusion Records)
• When She Falls (EP - Radio Promo Only with Remixes, 2008, Cold Fusion Records)
• Disruptive (Album, 2015, Cold Fusion Records)
Compilations:
• Extreme Essentials Vol. 3 (WEJE Radio, 1999, featuring "Black Rose")
• Extreme Essentials Vol. 4 (WEJE Radio, 2000, featuring "Powerdrill")
• Virtually Alternative Vol. 12 (Virtually Alternative Magazine, 2001, featuring "Powerdrill")
• Modrox New Music Sampler (2001, featuring "Powerdrill")
• Extreme Essentials Vol. 5 (WXTW Radio, 2001, featuring "Where Was God")
• Extreme Essentials Vol. 6 (WXTW Radio, 2002, featuring "Ultra Violence Remix")
• Annihilation & Seduction (BLC Productions, 2003, featuring "Ultra Violence")
History:
Formed in Fort Wayne, Indiana in 1997, CHAOTICA began as a solo one-man studio project, the industrial metal brainchild of composer Danny Chaotic who later enlisted the talents of lead guitarist Gary Toth and other local musicians when the band began performing live in 1999. Winner of multiple "battle of the bands" competitions hosted by midwest alternative rock radio stations, CHAOTICA began receiving support from commercial radio when their songs appeared on four (4) local radio station compilation CDs featuring the hottest local artists, and also on various nationwide radio sampler compilations. CHAOTICA self-released their debut industrial metal album "Turbocharger" in 1999, a raw and unpolished audio assault that was widely received by the "black t-shirt crowd" all across the midwest. Several songs from the record also began seeing sporadic rotation on midwest hard rock radio stations. CHAOTICA performed live following the release of their album to acclaimed fanfare due to their wild multimedia theatrics, and crazy stage antics… including the smashing of keyboards over each others' backs, and the "throwing of 6-foot inflatable penises into the audience." Ah… youth.
CHAOTICA began attracting attention from record labels in early 2000, including Atlantic, EMI, Hollywood Records, Jive/Volcano, MCA, Victory, Restless, Ultimatum, Wind Up, Universal, and Interscope (who actually began courting CHAOTICA for a record deal), but CHAOTICA never signed a recording contract. Instead, in 2001 Danny Chaotic began working with Priority Records and Marilyn Mason's now defunct record label "Posthuman Records" on a radio remix project with goth-rock band "gODHEAD" for their hit remake of the Beatles' song "Eleanor Rigby." Marilyn Manson was the Executive Producer for this remix EP, and CHAOTICA's remixed version of the gODHEAD tune charted on commercial radio across the globe and it was the first time CHAOTICA saw international limelight.
CHAOTICA continued to tour, changing their lineup of live band members along the way, and self-released a remix album in 2002 entitled "Offset Impact" which featured remixes of songs from Turbocharger that were engineered by the original live band members and local area remix producers.
In 2004, Danny Chaotic left Indiana and moved to the Phoenix area in Arizona to start the record company, recording studio, and publishing company known as "Cold Fusion Records," which Danny currently owns and operates. During that year, CHAOTICA licensed their song "Drill" to Twin Cities Public Television for an episode of "Dragonfly TV" which aired in March of 2004 in the U.S. and Canada.
In 2006, Cold Fusion Records released CHAOTICA's second full-length original album "Prison of Decay," which had a more professional-sounding polished "electronic rock" sound. CHAOTICA achieved a spot in the "MySpace Music Top 20 Most Download Industrial Artists in the U.S.," and after amassing over 19,000 fans on MySpace, achieved the #1 spot in the "Most Downloaded Industrial Artist in Indiana," despite having moved to Arizona. Several of CHAOTICA's songs saw heavy rotation on over 66 large, mid,and small commercial market terrestrial radio stations across the U.S.
CHAOTICA's hit songs "Unstable" and "When She Falls" charted in the Top 50 FMQB Alternative Specialty Radio Airplay charts in 2007 and 2008 respectively. "Unstable" received high rotation on satellite radio as well, finding a permanent home on XM-48 "The Squizz" until the XM/Sirius merger ended the station later in 2008. CHAOTICA self-produced a music video for "Unstable" in 2007, but it was a fan-made Anime Music Video (AMV) featuring CHAOTICA's song "Unstable" that went viral and amassed over 3 million views. Also in the same year, CHAOTICA signed an endorsement deal with "Futurstate Clothing" (a goth/industrial clothing company based in Canada) whose clothing line appeared in CHAOTICA's self-produced music video for "When She Falls," which was featured on FUSE TV, Cable TV "OnDemand," and in most Hot Topic and Journeys shoe stores across the U.S. for over 10 weeks in 2008. In 2009, CHAOTICA released their self-produced music video for their song "Katie's Pet Bird," a strangely upbeat song about dark subject matter.
CHAOTICA never returned to the stage to promote their "Prison of Decay" album, but rather focused on their studio work. From 2010 to 2015, Danny Chaotic spent 5 years working in the studio to evolve CHAOTICA's sound into what has become CHAOTICA's third full-length original album "Disruptive" - a cross-pollination of post-industrial laced with biomechanical growls and dubstep-inspired wobble synth basses, but with an edgy rock flavor and catchy "sing along" melodies. The songs contain playfully dirty synths, gritty vocals (likened to the sing/scream style of Chester Bennington of Linkin Park), thick distorted guitars, and skilled lead work provided by CHAOTICA's original lead guitarist, Gary Toth. Electronica / EDM drum beats reminiscent of jungle drum & bass and fist-pounding techno that has characterized CHAOTICA's sound from the beginning is ever-present in this record, along with antiestablishment, anarchist and self-explorative undertones that populate the songs with a fast-paced, rebellious, and post-apocalyptic appeal.
Danny Chaotic also teaches college courses that focus on music production, and is a co-founder and current director of Central Arizona College's "Entertainment Industry Technology" (E.I.T.) program where he teaches classes on the entertainment industry, recording engineering, songwriting, and stage performance. Danny currently manages three Pro Tools HD-based recording studios that he built at at the college, and as the owner of Cold Fusion Records, he continues to write, produce, record, and publish his own artist material, and material for others.
For press, licensing, or music production inquiries, contact Danny Chaotic.